We supply a lever arch file module to make you files stay neat and tidy.  The pack contains enough space for 30 A4 or foolcsap lever arch files.
Lever Arch File Module
If your lever arch files don't stay upright, you need to think about lever arch file storage.
SHOP NOW
Construction
The lever arch file module is made from heavyweight corrugated cardboard and printed grey and black.  The modules can be stacked up to 3 units high, giving lever arch file storage for 18 lever arch files in a space of 559x285mm.  The modules also have handles built in for easy transportation.
The Bankers Box lever arch file storage modules are manufactured from 100% recycled board, so are as environmentally friendly as possible.
Assembly
To assemble the lever arch file modules takes less than 3 minutes once you have mastered the sequence in which it has to be done.  The lever arch file storage units come in 6 parts that includes an outer shell and 5 dividers.  The shell must be assembled first, and then each of the dividers can be inserted.  The outer shell of the lever arch file storage module is ready assembled so that the storage unit can be put together in the quickest time possible.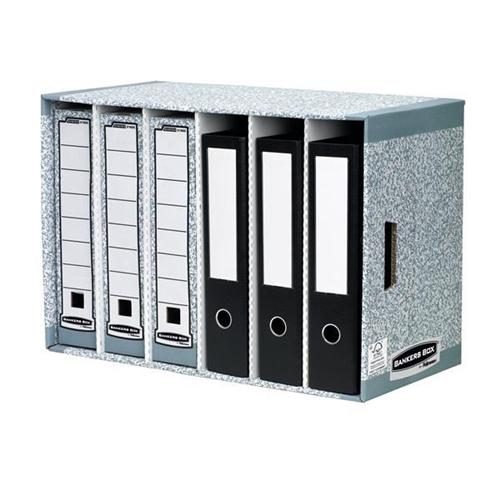 Overall Size
The overall size of the module is 580x290x400mm, which means that if stacked 3 high reach a height of 1200mm.  The height of each lever arch module is 400mm and that is sufficient to accommodate both A4 and foolscap lever arch files.
What Else Can Be Stored?
Although the storage module is designed for lever arch files, other types of files can also be stored.
Box file Storage
Standard box files are roughly the same size as a lever arch file.  These can be stored in the filing module to keep them neat.
Magazine File Storage
The Bankers Box System Magazine File can also be stored in the lever arch file storage module.  This can be seen in the picture of the storage box in this article.
What Sizes of Lever Arch Files Can Be Stored?
The lever arch file storage box can hold A4 lever arch files as well as foolscap.  Foolscap files are approximately 1″ taller than A4, however the depth of the file is roughly the same.
We have a huge range of lever arch files, with many brands and each brand having many colours.   Most brands also make their lever arch files in A4 and foolscap size.
What is the Pack Size?
The lever arch file module is sold in a pack of 5. This gives enough space for up to 30 A4 or foolscap lever arch files.
How Easy Are They to Assemble?
The lever arch file storage box is very easy to put together, as instructions for assembly are printed onto every storage box.  The boxes are light weight, therefore one person alone can put them together without any need for assistance.  It is the case that once you have put one storage unit together, each one after that becomes easier and easier.
Can They Be Used for Archiving?
Yes, the units are easily moved from the office to your archive storage area or facility.  They have carrying handles to make transportation possible with ease.
Local Delivery
We can deliver your lever arch modules the next day across the UK using a network of delivery services.  If you are based in Manchester, we can deliver the same day using our own vehicles and delivery staff.
Was This Article Interesting
If you found this article interesting, please share it by simply clicking the buttons below.
Read What Our Customers Say About Us
Read our Google reviews and what our customers have to say about the service we provide. Just search OCTOPUS OFFICE.